It was a familiar start to our anything but unfamiliar trip: an MRA swap gliding 2 centimetres up our nostrils. We had just gotten off the plane at Kilimanjaro International and, admittedly, we were a little cranky. Me because an eight hour flight isn't exactly my idea of a good time (even if it was in business class), my girlfriend because she had to put up with me. 
Although we had a surprisingly tasty lunch on the plane, we elected not to have dinner so we could properly enjoy the Lodge's cuisine. In hindsight, this was a mistake. The plane wasn't set to land until close to 9pm, and the Lodge was more than an hour away by car. And come to think of it, her New Year's Resolution to stop drinking probably didn't help, either. At least I had a nice buzz going from the complimentary sparkling. 
The Pickup
We got through customs without any major hiccups and were instructed on where to meet our chauffeur. In our tired and hungry state, we meandered our way over to the collections area. In the distance, we spotted him. Suit on, sign in hand. With perhaps the politest and most respectful of greetings I've heard in a long time, he introduced himself before offering to grab our bags. We said we had too many for him to carry (no prizes for guessing which of us overpacked), and he promptly proved us wrong. It was time to begin our trip in earnest. 
Legendary Lodge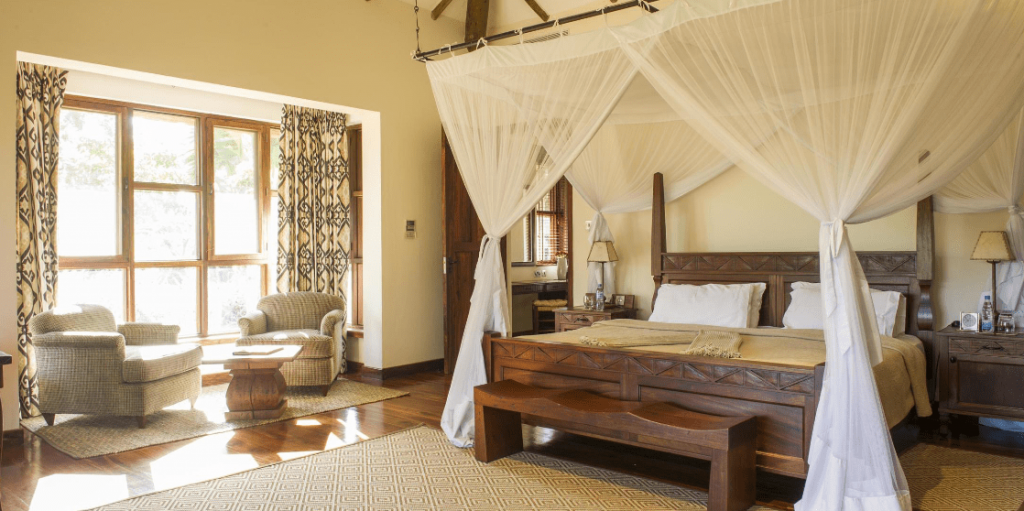 The First Night
Our home for the next two days was the aptly named Legendary Lodge, located at the foothills of Mount Meru on the outskirts of Arusha. The lodge was highly exclusive, with only twelve cottages over 1000 acres. I remember the lodge being quite breathtaking when we were first driving in, but if I'm being honest, my mind was pretty squarely on one thing: food.
We were arriving close to 10:30pm at night, so I figured there were pretty good odds we'd be stuck raiding the minibar. Not even close. 
We told the front desk staff our story and asked if the kitchen was closed. To our delight, she said they can always prepare us something, but we were perfectly on time for their sit-down dinner — it just couldn't be in the restaurant. Fine by us! The staff kindly took our bags and set up the formal dining room in our cottage. Dinner was an a la carte menu with three choices, which we really struggled to choose between. In the end, we started with prawn tempura followed by wonderful duck breast with a red wine jus, ending with a decadent chocolate soufflé. Only then did we raid the minibar. 
The Cottage
After finally waking up from our food and flight-induced coma, we had a tour of our cottage in the daylight. It was decorated with a unique blend of African and colonial-style decor, but with all the modern luxuries we're accustomed to. We had a king-sized bed, an en-suite bathroom with a rain shower and deep, free-standing tub, a separate lounge with a fireplace, and a wraparound veranda with views over Mount Meru.
The staff came in to bring us a fruit basket to snack on throughout the day before taking our breakfast order. They offered to prepare the formal dining room for us again, but we wanted to take every opportunity we could to dine al fresco while overlooking the colourful grounds filled with the purple of the jacarandas, the flaming red of the African tulip trees and the soft white of the frangipanis. 
The Plantation
After a wholesome buffet of fresh fruits, pastries, cheese, meats, and a cooked breakfast, we decided to explore a little by savouring a sensory coffee tour on the neighbouring plantation. 
We followed how the beans go from tree to cup, touching and smelling them at every step in the journey. It was very educational, but far more importantly, the coffee we had at the end of the tour was awe-inspiring. Full-bodied, intense, creamy, and with notes of sweet berries. I've fully accepted that I'm going to sound like a total prick anytime I describe this cup of ambrosia to my friends back home. Worth it.
On our drive back to the lodge, the tour guide asked if we had any more plans on the agenda. Knowing we had a full week ahead of us, we said we were planning to just take it easy back at the resort. He suggested croquet on the lawns so we could relax while still experiencing everything they had on offer. Feeling particularly French, we surrendered — even deciding to get dressed up in our finest vacation attire to hit the ol' mallet around. I'd prefer not to say what happens next, but suffice to say I lost. 
Exhausted from our tour and in a not overly adventurous mood, we spent our final day at the lodge by the pool escaping the January heat and admiring the retreat's natural surroundings. Steadfast in her resolution, my girlfriend sipped on mocktails, allowing me to enjoy a bottle of white to myself. After a few hours working on our collective tan in the sun, we decided it was best not to laze by the pool all day, so we did what anyone would do — go to the lodge's spa to be pampered in the air conditioning instead. We spent arguably a little too long here, for when we left the retreat's therapy room, the sun was already beginning to set. 
Under the last rays of the golden afternoon sun, we headed over to the sundowners garden, soaking up the African serenity while nibbling on a variety of cheeses and charcuteries to celebrate our final night at the very legendary lodge. 
Ngorongoro Crater Lodge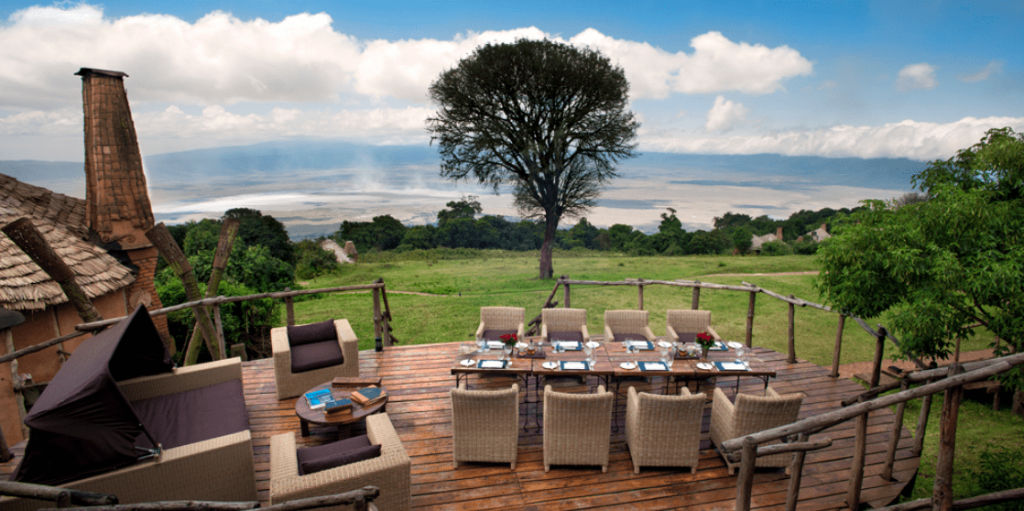 The Volcano
A new day, a new adventure. We had one final breakfast at the lodge before our driver and tour guide, Joseph, came to pick us up in our private 4×4. We travelled by road to the Ngorongoro Conservation area, where the Ngorongoro Crater Lodge is located — and that's a crater as in volcano crater. Ngorongoro is home to the world's largest inactive, intact and unfilled volcanic caldera, and our lodge was right on the edge of this World Heritage Site.
The Lodge
The lodge resembled a baroque châteaux, with an eclectic blend of teak panelling, Victorian furnishings and whimsical African touches. Our suite was Maasai manyatta style with a banana leaf ceiling and grass roof, which provided authentic African ambiance. The interiors were once again colonial style and a mix of silver, gold and ruby colours with silk curtains hanging from the ceiling and tall, leather-backed chairs in front of the fireplace. My personal style errs on the side of minimalism, so I found the room nice, but just a touch busy for my liking. My girlfriend looked at me like I was an idiot and said it was, at worst, a welcome change from our hyper-modern monochromatic apartment and at best, "drop-dead gorgeous". Different strokes. 
The View
What we could both agree on was that the view was truly, undeniably, breathtakingly spectacular. Our central living area and deck had uninterrupted 180-degree views of the crater, so we were gifted with the sight of lush grasslands for as far as the eye could see, only interrupted by the opposing crater wall on the horizon. On some mornings, the crater would be cloaked in mist that would swirl with the wind and we just watched it dance. No food. No music. Just the calming mist captivating us with its movement. 
The Crater
The ancient caldera shelters one of the most immensely concentrated wildlife havens on earth. 25,000 mammals live in the crater, including endangered black rhinos, elephants, lions, hyena, hippos, buffalos, wildebeest, gazelles, waterbucks, and several species of wild cats. There was no way in hell we were going to miss it. 
The Game Drive
We descended into the Ngorongoro Crater through the lush highland forest, all the while entertaining our driver with our juvenile version of bird-watching. Juvenile because neither she nor I could name a single bird by name. "I see a blue one", I said, or, "Look, that one's short and fat!" she exclaimed, giggling. He had a good laugh and asked us if we wanted to know what they were really called. We were happy in our ignorance. 
It was only shortly after we hit the grassy crater floor that we saw our first big game of the day: a herd of grazing gazelles. Our guide told us that gazelles are, for lack of a better term, nervous wrecks, so we tried to keep our distance. It seemed to do the trick, mainly due to the fact that they didn't run for dear life. So we continued to watch for a while longer, but eventually left to continue on with the drive.
Going east towards the Gorigor Swamp and Ngoitokitok Springs, we saw a pod of hippos basking on the shoreline and bobbing in the water. We had heard the hippos were actually quite dangerous, so we expected to see some sort of fighting between them, if not rampaging towards us. Alas, they were resigned to lying in the mud all day. 
Unfortunately for us, we had missed the dry season by quite a few months, so we didn't get the chance to see any flamingos. A little underwhelmed, I half-jokingly said to our guide: "Where are all the animals?". After all, this is one of the most densely packed areas of wildlife in Africa, I had expected a little more. Our guide assured us not to worry and that the bulk of the resident game resides up north in the drier, open grasslands, but that if we were getting tired, we could turn back now for lunch. Trusting him, we went ahead. 
He was right. We cleared the forest and opened on a clearing of dry, short grass. Zebras were next to wildebeest, were next to elephants, were next to lions. As far as the eye could see, different animals were scattered across the plains, intermingling in small groups with little regard to species. I was shocked and, honestly, a bit confused. Were the zebras not afraid of the lions? How can they stand so close to one another? We started flooding our guide with questions. As it turns out, lions only hunt every 2-3 days, and only 30% of these hunts are successful (King of the Jungle my ass), so when the lions are full, they don't pose much of a threat.
Following the dirt road, we slowly made our way across the track, admiring the animals as we passed. We saw mothers licking their young, wildebeest brawls, and I wanna say at least one lion marital dispute. 
After putting enough distance between us and the carnivores, we reached the designated picnic lunch spot. The staff had set the tables with snowy tablecloths and sparkling silver cutlery, and an army of butlers sprang into action to lay the table with today's delectable dishes, served against a backdrop of zebras strolling along the crater floor. 
Namiri Plains Camp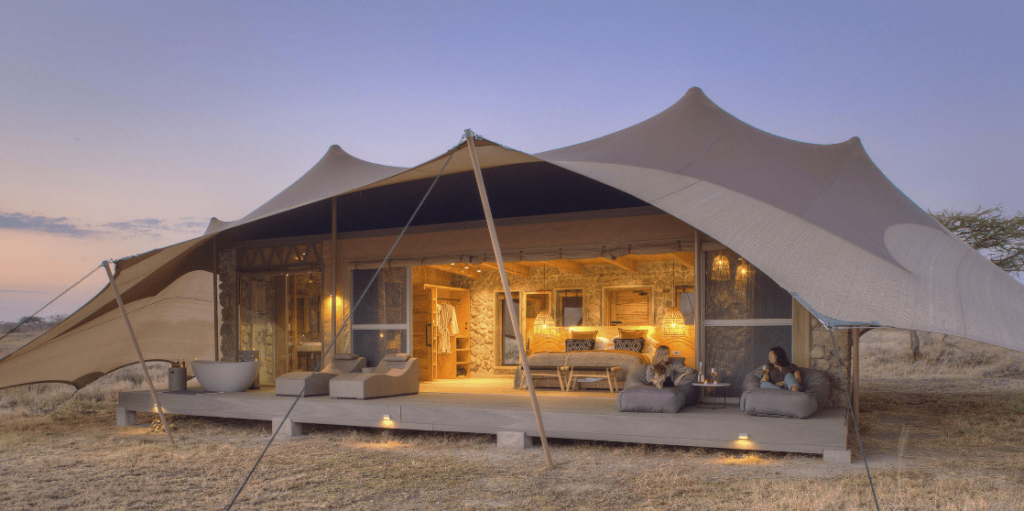 Serengeti, here we come. Via private charter, no less. Now, in general, I'm not much of a plane guy. I don't get claustrophobic, but I don't particularly like tight spaces. Well, as it turns out, I'm a private plane guy. We only had a short flight, but the Pilatus PC-12 might've actually been bigger than my first apartment. We got to our destination in less than 30 minutes, and with only three people on board, legroom became a thing of the past — stretch out, get up and walk around, do some squats, the floor's yours. It was a dream. We were on route to the Namiri Plains Camp, the third stop in our journey, but the first not to have any fixed walls. 
The Camp
The Namiri Plains are located on the eastern side of the Serengeti National Park in big cat territory. Cheetahs roam the area in pursuit of prey, leopards hunt undisturbed, and one very peculiar melanistic serval named Manja has been known to make an appearance from time to time, albeit rarely. 
The camp itself is quite small and exclusive, comprising just ten tented suites with sweeping 360-degree views of the plains. Ours came equipped with a king-sized bed, an ensuite bathroom with indoor and outdoor showers, and a resin bath on the deck. Hardly slumming it, but there was definitely an increased sense of being one with nature through the tent's unusual architecture, which gave us privacy while maximising our openness to the outdoors.
The Respite
Still swooning from our crater game drive, we decided to spend our first day at camp relaxing and just taking a breather. We spent most of the day decompressing in our tent, reading and talking with only the plains as witness. We ate a light picnic lunch in the shade of the nearby acacia trees before retiring for a midday siesta. 
When we awoke, our guide informed us it was BBQ night and to come hungry. We all met in the dining tent for a buffet of meats, salads, and traditional Swahili dishes with beers all round. Well, sans one. 
Sharing a meal really helped foster a sense of community and camaraderie between the guests and the staff. We told them about our lives back home, they told us about their culture and heritage. It felt like a genuine exchange. 
On our second day, we wanted to get to know the land better. We opted to explore the Serengeti on foot through a guided walking tour. By stepping out of the vehicle, it felt like we could see better. Not only was nature less startled by the noise of the engine, but we got to appreciate it more as an equal. We were able to identify butterflies, ants, termites and various beetles on our track. It was a great opportunity to learn about how the whole Serengeti ecosystem works. 
The Air
Having now done a game drive and walking tour, there was one more experience we wanted to tick off while in Tanzania: the hot-air balloon. One thing we noticed while on our walking tour is how much less intrusive we were. The animals — thankfully — just aren't that accustomed to the sound of a moving vehicle. Going by hot-air balloon offered not only a less intrusive look into their lives but from a different perspective, too. We told the staff of our desires and they set it up for the next morning.
Excited for what was to come, we woke up bright and early. Well, dark and early. Takeoff wasn't until 6am, and the balloon needed to be prepped first. Nevertheless, it was truly an iconic way to experience the wilderness of East Africa. We flew silently over the plains as they teemed with herds of wildlife, the sun beginning to glisten over the horizon. We got to witness the world wake up. Herds began to roam, the nocturnals returned to slumber. It was an experience I've never had before. And as we were starting to descend, we could see the staff setting up a romantic breakfast for two on the plains. A fitting end to a memorable flight. 
Baraza Resort and Spa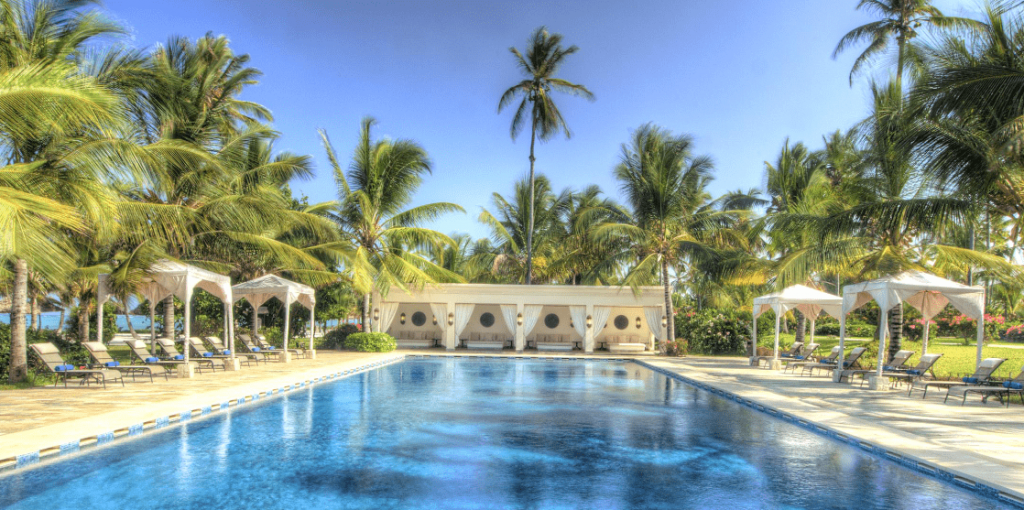 It was back to the airport for the final leg of our journey. Destination: Zanzibar. Home to the Baraza Resort & Spa, an oceanfront, 5-star resort that features classic Swahili architecture, including dramatic arches, cement benches, and intricate, hand-carved cement decorations. Our villa was filled with handmade furniture, brass lanterns, and luxurious white-and-golden fabrics. Not only did we have a private plunge pool, there was also a spacious terrace with ocean views.
The resort had three restaurants, and I'm not joking when I say this, one for each meal of the day. They all had a different theme and cuisine, but in general, were inspired by a fusion of culinary cultures across Africa, Asia, India, and Persia.  
The Food
On our first night, Baraza's evening restaurant — the Sultans Dining Room — was table d'hote: a fixed menu of the chef's creations. The limited choice might not have been everyone's cup of tea, but as foodies, we loved it. 
We were served a five-course dinner, starting with gratinated crab claws with tomato relish and sauteed spinach as our first bite. 
Crab was followed by vanilla king prawns with avocado napoleon, bloody mary dressing, and mizuna leaves. 
Next came creamy mussel soup with crispy mussel tempura. 
For the main course, we were given two options to choose from. The first was a seafood platter of lobster, jumbo prawns, and a fillet of red snapper with reef sea urchin sauce, a spinach parcel and cherry tomato confit. The second was the fillet of beef tenderloin with truffle scented potato souffle, confit shallots bonbon, porcini puree and rosemary sauce. We chose both. 
Finally, for dessert, we were served a simple but delectable chocolate fondant with vanilla ice cream and edible flowers.
The Options
Having gorged ourselves the night before, we agreed it was probably best to get our bodies moving. We asked the concierge what they recommended for fitness and they gave us a couple of ideas that ranged from gentle palm weaving on the beach to intensive multi-day kitesurfing lessons. Given more time, we might've done both, but our trip was coming to an end and the Indian Ocean was calling to us. We asked what they had available for beginners. Not ten minutes later, we were scheduled for a guided snorkelling tour.
The Ocean Tour
We met our guide on dry land and they ran us through the safety instructions and a couple of hand gestures so we could communicate underwater. Then they gave us our equipment: goggles, flippers, and of course, snorkels. 
We started the tour from the beach, swimming out just a few metres into the crystal clear water when we came across a series of brightly coloured and noticeably spikey starfish on the seafloor. The guide assured us they weren't dangerous, but that we shouldn't touch them as they're an important part of the ecosystem. It was a pleasant surprise stumbling across such an interesting-looking creature so early in the tour.
As we swam on, our guide pointed out fish after fish, telling us their species name and rarity. Over the course of our trip, we easily saw more than 100 types of beautiful, colourful, exotic fish, of which I can remember the names of precisely two: Dory and Nemo.
Towards the end of the dive, we came across another star of the 2003 smash hit. Turns out Zanzibar is a nesting ground for green sea turtles, and they're a surprisingly common find! We were delighted. Crush was either extremely curious or just highly accustomed to humans, because he swam up to us. We got the guide to take our photo, which is probably my favourite memento of the whole trip.
The Final Night
Back on land, we washed off the day's activities and prepared for pre-dinner mocktails at the Dhahabu Bar & Lounge. An open-air lounge lit exclusively by candlelight, we spent the evening discussing what we were appreciative of as we watched the sun set over the ocean. 
As the night went on and the conversation flowed, we decided to trade dinner at the Sultans for a final moonlit walk on the beach. 
When we returned to the villa, the staff had laid out candles and a personal buffet, complete with two glasses of champagne and a folded note from my girlfriend that read: "To end such a magnificent trip with anything but champagne would be no end at all". I knew her resolution wouldn't last.