Our trip began on Qatar airlines with, in my opinion, some well-deserved drinks. The week had been long and I was excited to see anything except another cement city. I ordered a whiskey; my girlfriend, elegant as she is, opted for a glass of sparkling. We figured our first day was mainly for getting acquainted with the camp, and if we happened to do that tipsy, great! 
When we got off the plane at Kilimanjaro International, we were welcomed with an all-too-familiar sensation: a COVID test tickling our brains and some customs paperwork. The price we pay for travel these days. 
I complain, but the whole ordeal was over in less than ten odd minutes, and as soon as it was, we were whisked away to our next flight (this time, fully private). The "Pilatus", they called her ​​— a goddamn beautiful plane. Crafted in Switzerland, leather seats, hardwood cabinetry, the whole shebang. Never thought I'd say this, but I wish I was on that plane longer.
The trip was just shy of an hour or so, and when we landed, our driver/tour guide was there waiting for us. Nice guy, very enthusiastic. Said he'd been working as a guide for a decade plus and I quickly believed him — there wasn't a question we had that he couldn't answer. Turns out hippos don't actually swim, they sink to the bottom of the river and walk on the riverbed floor.
Sayari Camp 
The Camp – Saturday 30 October
When we got to the camp, I was floored. Admittedly, I didn't handle the bookings, so when my girlfriend told me we were staying at a "camp", I didn't expect to see a king bed, an infinity pool and, I kid you not, a microbrewery. I promptly picked up my jaw and we explored the surroundings. It had all the trappings of modern comfort but with the occasional giraffe sauntering by.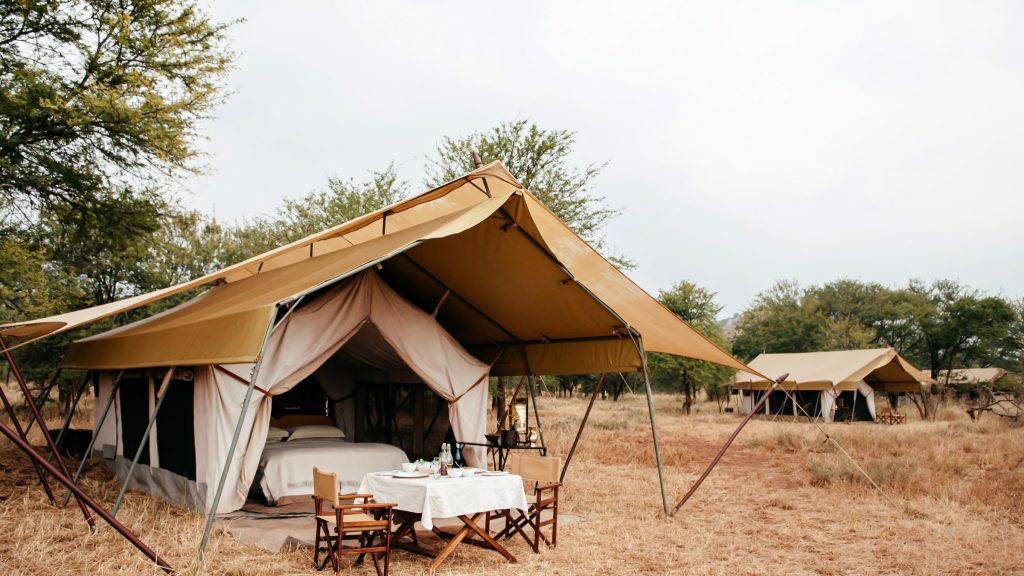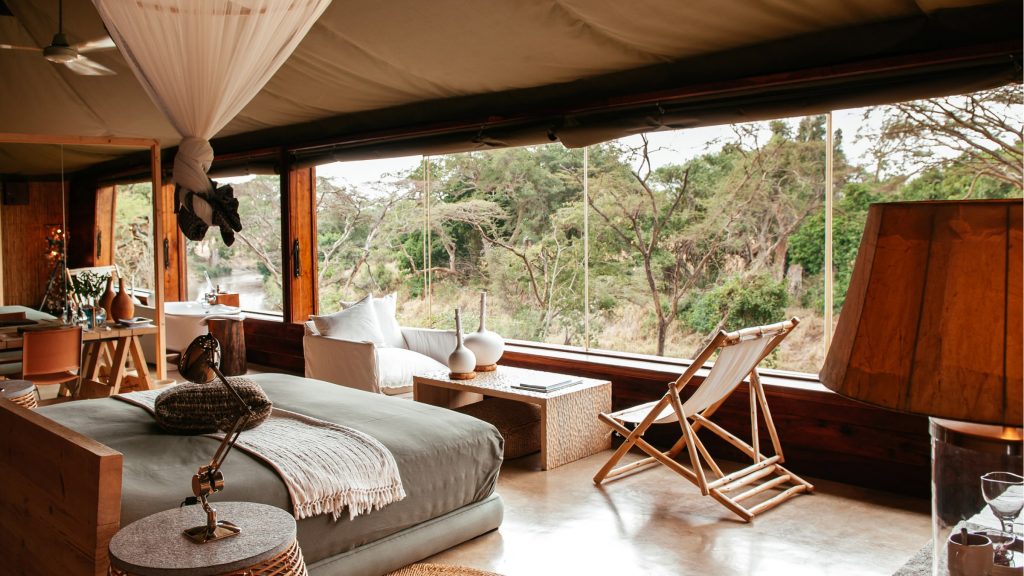 The staff took our bags and gave us a tour of our "tent". And by tent I mean multi-roomed, high-ceilinged, mahogany-floored, painting-ladened, open-floor-planned, indoor-outdoor tent. Don't get me wrong, it still felt as if we were on safari — having the plains on your doorstep really seems to help with that — but it was nice knowing we could have a hot shower at night and connect to the Wi-Fi, too.  
By this point we were getting a little peckish, so the camp's staff prepared us a miniature buffet. We ate al fresco style on our private shaded veranda before deciding what to do with the rest of our day. Eventually, we opted for cocktails in the pool to cool off from the midday heat. 
Whatever my expectations were, I'm very glad I was wrong. There's something surreal about lounging in a pool, a genuinely well-designed pool you would see at any 5-star hotel, except you look to your left and there's an elephant 50 meters off. Something you quite literally would never see in a big city. 
Several very well spent hours later, we reconvened for a three-course dinner on the terrace to dine under the stars. We had a big day and an early morning tomorrow, so we retired for the evening.
Big Game – Sunday 31st October
We started the day off bright and early with fresh coffee delivered to our tent. We planned on going out on the early morning game drive, so we couldn't stay for breakfast, but it was well worth it. Within minutes of being out on the plains, we saw our first big cat off in the distance: an adult male lion lying on the grass. We were a little hesitant at first to go up to it (on account of its giant claws), but our tour guide assured us it was safe. We approached slowly and carefully until it was a few metres from the truck, the two of us still very cautious. As it turns out, lions are very lazy creatures when not actively hunting. He just layed there, occasionally yawning or, as my girlfriend put it, "posing for us". We spent a good while admiring him, but ultimately decided to let him be and go find some more energetic animals.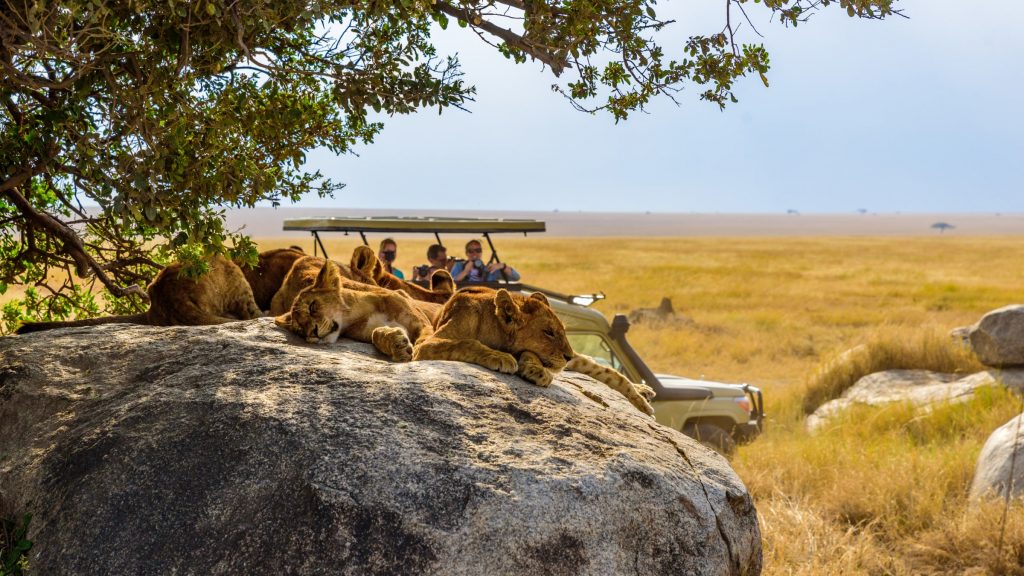 Now, if lions are lazy, hyenas are adventurous. We drove some distance before stopping for a break in the shade. Not five minutes later we had a pack of fifteen or so come up to us. They stayed at a distance in the beginning, but once they felt more comfortable, they came closer to the truck. A number of them came up and started sniffing the dusty wheels. Keep in mind hyenas are roughly the size of a big dog, and having that many crowd around you can be a little disconcerting to say the least. So although the hyenas felt comfortable, our tour guide took control of the situation and we were off.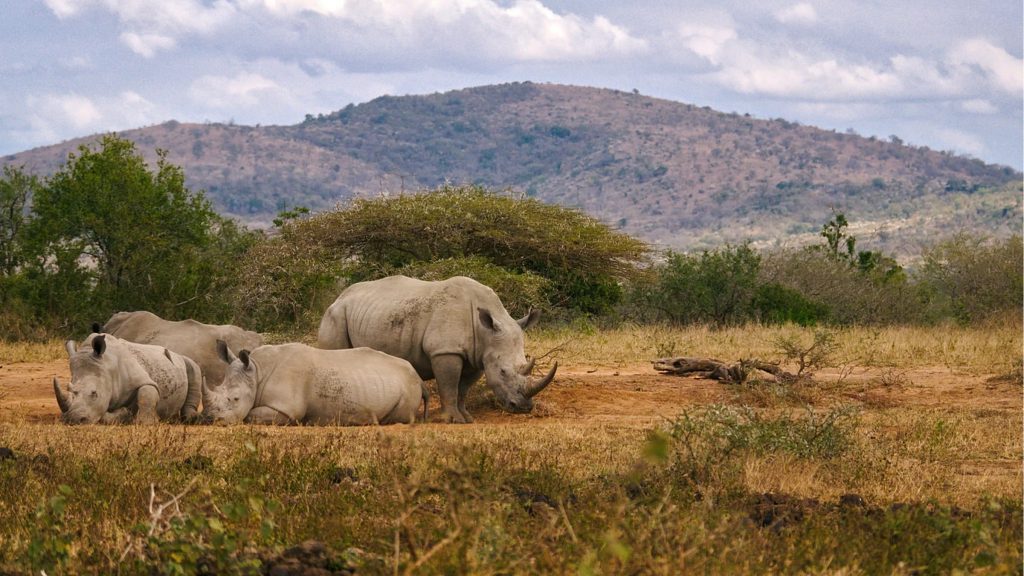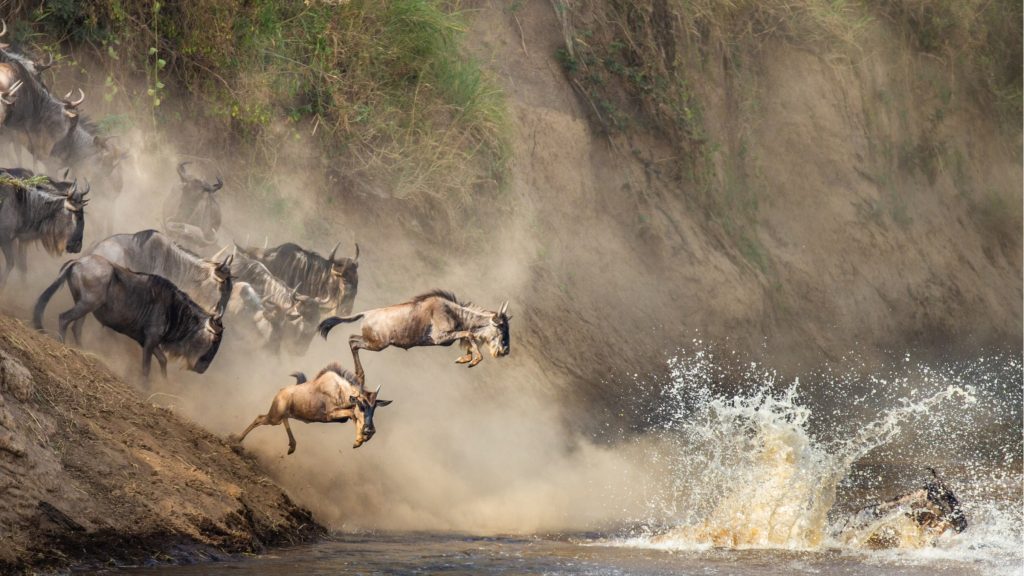 After we were a safe distance away, our guide asked us when we wanted to stop for breakfast and we told him we didn't bring any. We were delighted to hear that the staff had actually packed a small picnic for us and stored it in the 4×4's mini fridge. I don't know if it was because I wasn't expecting it, but that may have been the juiciest, most refreshing fruit I have ever tasted. 
On our drive back to the camp, we went past the Mara River in hopes of catching the crossing of the wildebeest. We were in luck! When we arrived, we were graced with the sight of hundreds of wildebeest crossing the Maya, but boy were they not graceful. They weren't crossing so much as racing. And as our tour guide pointed out, those aren't logs in the river. From just the relatively small herd we saw, let's just say two went down and didn't come back up. The tour guide reminded us it was the circle of life, and told us it was actually good for the river. Those wildebeest will feed not just the crocodiles, but the birds, the fish, the plants, and all of the Mara. And it was a spectacular show to see, if not a touch morbid. 
Up and Away – Monday 1st November
We welcomed in November from above — about 500 meters above. With another early a.m. start, we were collected from the camp and taken to our main experience for the day: a hot air-balloon ride. And it was an experience. We were there when the balloon was inflating and ushered in just as the sun was beginning to breach the horizon.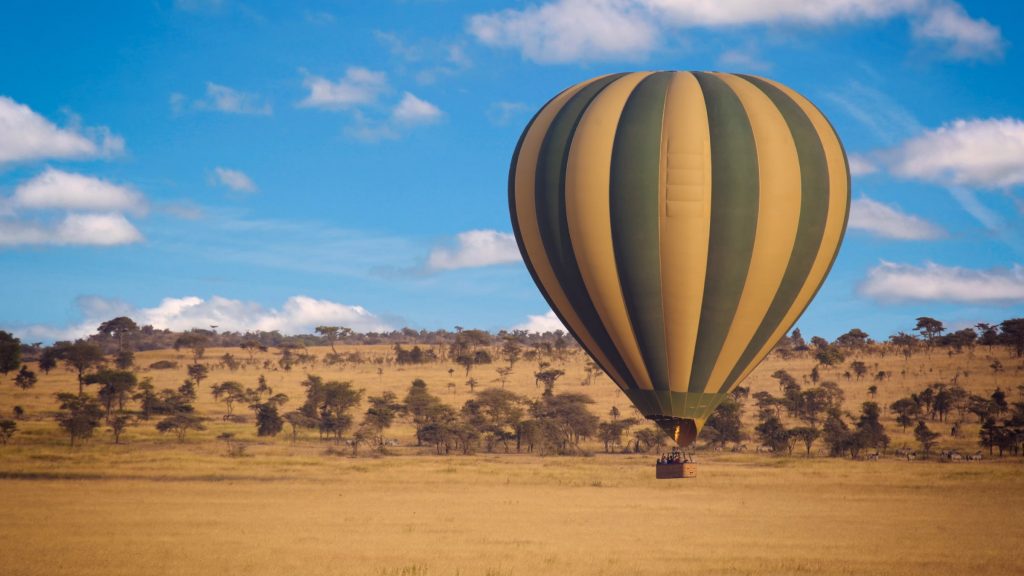 Finally off the ground, we caught a glimpse of a small herd of a distinctly black-and-white animal in the distance. While ascending, the wind began to carry us gently in its direction. The closer we got, the bigger it seemed. But it was not until we were overhead that we could truly appreciate the size of the herd. The pilot estimated there were 400-500 below.
So there we were, floating above the sunkissed Serengeti, taking in a once-in-a-lifetime view and what do we see below? The staff beginning to set up for breakfast. All before 10am. 
Mnemba Island
The Island – Friday 5th November
Another destination, another Pilatus flight. We were transferred to the Kogatende airstrip for our next great adventure, starting (as all good trips do) via private plane. Destination: Zanzibar. COVID test: not required.
But it wasn't Zanzibar itself that we were interested in. No, we were going somewhere a few kilometres off it — Mnemba Island. A private, whitesand tropical paradise, palm trees and all.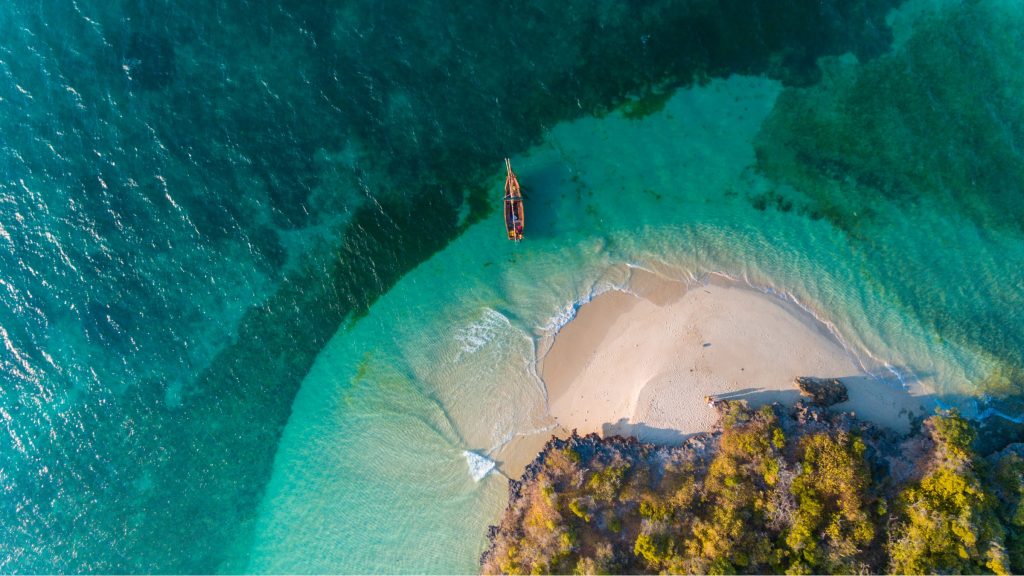 We stayed at the island's lodge, fittingly called Mnemba Island Lodge. The lodge is known for its exclusivity, and justifiably so. There are only twelve bandas on the island, each tucked away in their own private patch of tropical foliage. I can't speak for the others, but ours was made of woven palm mat, complete with a veranda and truly sensational ocean view. To say we had the beach on our doorstep would be an understatement — the sand was but a single step outside. 
On our very first night there, the staff had set up a candlelit dining experience for us down by the ocean. We watched the sun set over the water, no city in sight. Naturally, we had a selection of the island's own seafood and topped it off with some very imported champaign.
Under the Sea – Saturday 6th November
The next day was gorgeous, with not a single cloud in the sky. Our agenda consisted of exactly one item: snorkeling. On our dive down, we truly got to appreciate the colours and textures of the reef. The magnificent golds and vibrant magentas, the hard rocks and ethereal polyps. We even made a friend! A green sea turtle that was, for the record, far bigger than I had imagined. Apparently, the island is a protected nesting ground for green sea turtles, so not only are they common, they aren't afraid of divers. And here I was, thinking that we had a connection. 
The Cuisine – Monday 8th November
If Saturday was all about going in the water, today was all about staying out of it. We decided today was about relaxation, starting with breakfast in bed. The staff brought us a selection of tropical fresh fruit, muesli, a bakery basket, homemade jams, and freshly squeezed juice. Before we began, the chef visited us to chat about today's menu, though he stressed it was only a suggestion, and that they're flexible with incorporations and substitutions. We told him nothing of the sort would be necessary and that we trusted him completely. 
For lunch, we chose a private table nestled in a clearing. We selected the three-course meal and put ourselves in the chef's capable hands. He brought out a handful of ingredients and prepared for us a traditional Zanzibari spicy dip right there at the table. Enjoyed alongside fresh bread, it was an excellent start to the meal. The chef followed up with a butternut squash and walnut plate, served with heirloom tomatoes and plated on three distinct stripes of sauces. The main course was the catch of the day: pan-roasted local kingfish served with lemon, capers and crouton butter sauce. We ended the lunch with the perfect touch of sweetness — homemade mixed berry sorbet topped with fresh fruit.  
Out on the Water – Wednesday 10th November
After a couple days of nothing but eating and lounging, my girlfriend and I woke up early and decided to see what the island had to offer. She went to beach yoga while I prepared for kayaking. I opted for the solo adventure as opposed to the guided tour so I could meander along to my heart's content. The sun on my back felt heavenly, and whenever I got too warm, I cooled off in the Pacific. Back in the banda, it was breakfast time. Omelettes were today's special and we had them alongside mimosas under the trees. 
We ticked off green sea turtles earlier in the week, but we wanted to see dolphins before the trip was over, so we decided to go on the boat trip. We were told dolphins were pretty common around here, though there'd been no sign of them all week, so we didn't like our chances. Lo and behold, over an hour later — yeah, no such luck. The captain turned the boat around and we headed back to shore. We were a little disappointed but had still thoroughly enjoyed our time out on the water. Plus, nothing a few commiseratory cocktails on the beach couldn't solve.
Couples Retreat – Thursday 12 November
We decided that the last day of our holiday before returning back to shoe-wearing society should be a couples day. We requested two half servings of pancakes and waffles with berries, as well as in-banda wellness treatments. By the time we had finished our breakfast, our two masseuses had arrived at our proverbial door. We welcomed them in, and with them, an hour of hot stone relaxation.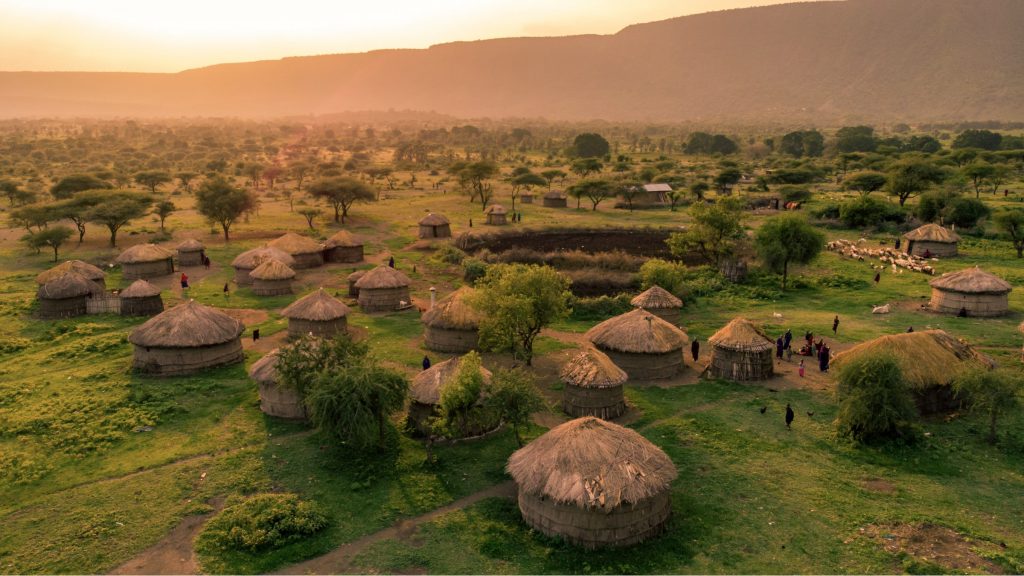 After a shower to rinse off the products, we quickly got redressed and joined the spice tour, driven deep into the island — well off the beach and into the greenery. We learned about the island's history as spice growers and got to experience vanilla and cinnamon, straight from the source.
We ended the day with the sunset show cruise, sharing a bottle of bubbly as the sky went from pink hues to burning orange, with slashes of deep indigo and azure before finally descending into inky black. And what did we see in the gleaming moonlight? Dolphins.